Full

Review Of AdultFriendFinder
8 mins to read
The world of technologies has made it much easier to hook up with new people. There are numerous matchmaking services designed to find single people serious relationships as well as random dates for relationships without any commitments. AdultFriendFinder is one of the places where you can find a partner for casual relationships. It is a service for adult people who are not ready for serious steps but do not want to be lonely. The platform is registered in the US but operates worldwide and has millions of members. It is open to all types of relationships and can offer something extraordinary, even to couples who are ready for experiments.
This AdultFriendFinder review will tell you more about its main features, registration process, and subscription plans. If you want to try something new in life, check this adult platform.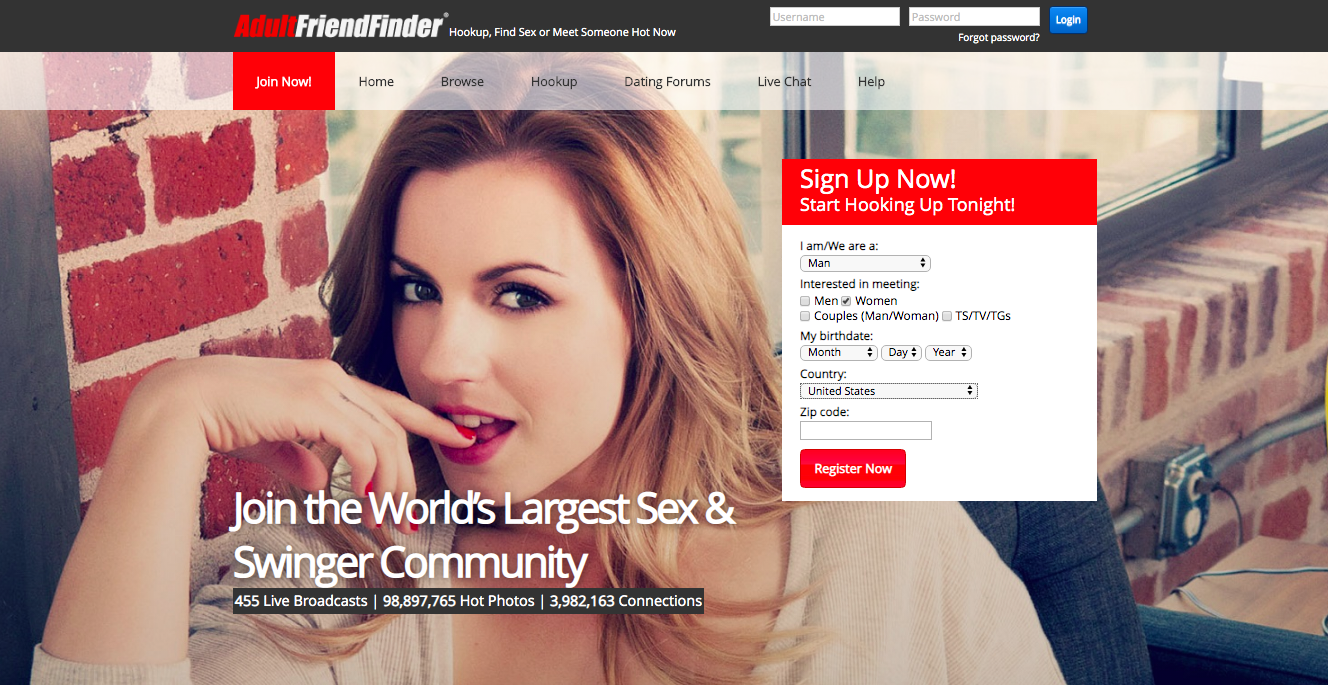 Pros and Cons
Pros
Platform for casual relationships and hookups
Quick and simple registration process
Huge number of profiles worldwide
Mobile app available
AdultFriendFinder log in is simple
Cons
Reported scam accounts
Most members are men
Requires unique username
AdultFriendFinder at Glance
Best for: Men and women looking for a hookup
Number of members: millions
Recommended age: 25-44
Favorite features: live members webcams, adult chatrooms, sending gifts, live streams.
What Is AdultFriendFinder.com?
If you are looking for serious, long-term relationships, AdultFriendFinder is not for you. This is the service that is suitable for those who are looking for casual hookups and intimate experiments. It offers mature materials and is only for those who are older 18. You can meet a nice date, even if you are traveling or away on business. The platform offers access to a huge database of users around the world. These are young people who love experiments and are open to new connections. Even though it is hard to name the exact number of female and male users, based on numerous AdultFriendFinder.com reviews, the service is very popular among men in mid-40s. The majority of members are from the US, the UK, and Canada.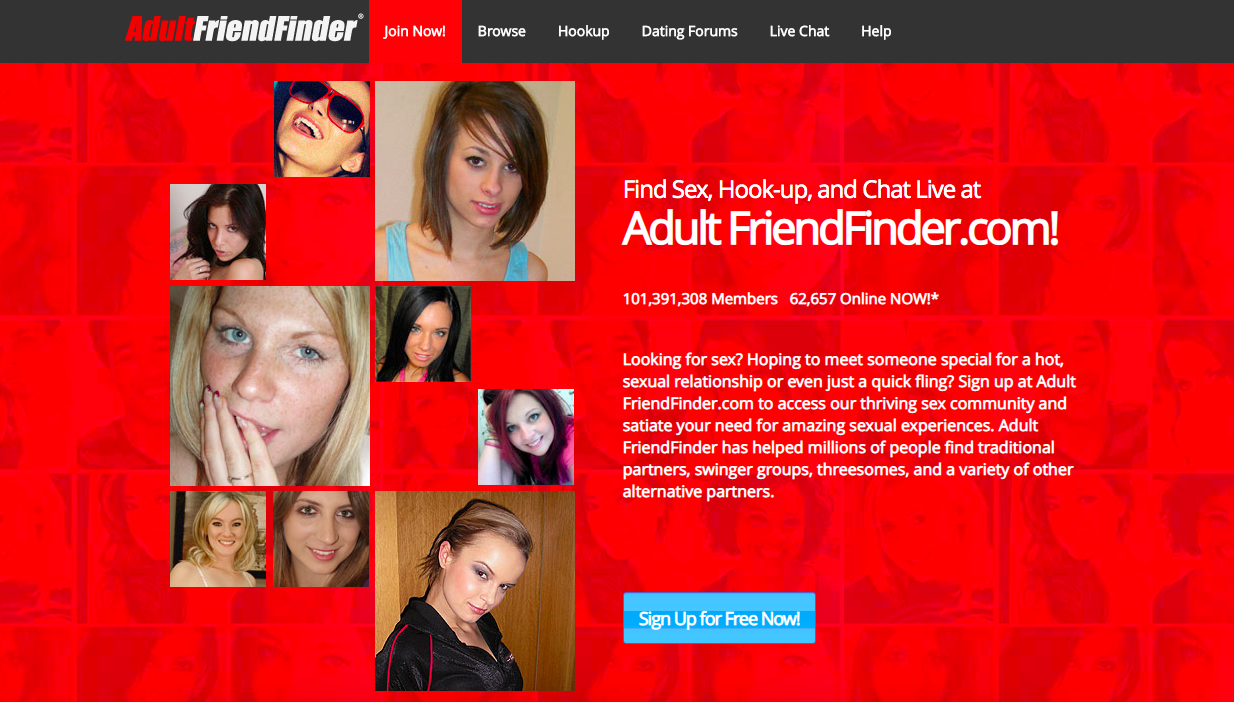 How Does AdultFriendFinder.com Work?
AdultFriendFinder operates like most matchmaking services. In order to start using it, you need to register your own profile page and tell other users about your preferences and interests. The more you fill in your page, the better are the search results. If you feel difficult to approach women in the street, you can use the service to find the right partner online.
There are various communication features to get in contact with other members. The platform also has a huge number of special features to entertain you. Live member webcasts and group adult chatrooms are the most popular features. You can watch other members broadcasting publicly or join a hot conversation in a chatroom.
How To Register
AdultFriendFinder dating site has a nice and user-friendly design. Even if you have never used similar services, you will not experience any difficulty to register a personal profile page. It is important to have one to start using the website. The registration usually takes up to five minutes. You need to fill in the form, indicating basic information, including your gender, birthday, country, etc. You need to indicate your email to receive a verification email. Make sure you have written the right one. New members have to choose unique usernames, which will be visible to other users—no need to tell your real name. After you complete the first step of registration, you will be redirected to your page, where you can see the latest activity. Fill in a personal profile, upload photos, and say a couple of words about yourself. Now you can start your search for a nice partner.
Those who prefer to use mobile devices to connect will be happy to hear that the service has a mob app for iOS and Android. Mobile apps are free to download and are very easy to use. The application allows you to get in touch with other members at any time or place. Most of the website features are duplicated in the app. It is possible to watch livestreams and exchange messages using the app.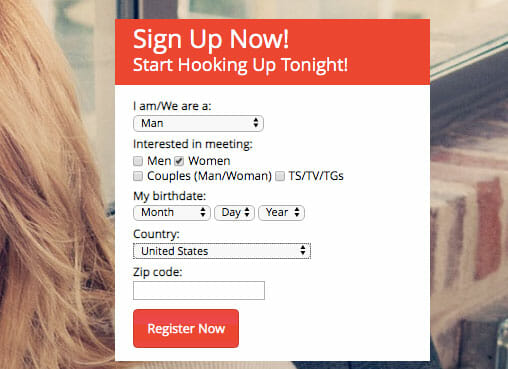 Search & Profile Quality
Once you have registered a profile page, you are shown potential matches at the top. You should use a search tool to find partners with similar desires and interests. Each profile page has information about the users. Based on the information in profiles, the search tool finds the best matches. You can always update information in your account to be shown to other members and use a search filter for better results.
Is AdultFriendFinder good? Yes, it is a very good service because it has high-quality profiles. All profiles undergo a thorough check to make sure that users are real and are looking for fun and not troubles.
Is AdultFriendFinder Safe?
The truth about AdultFriendFinder is that nobody can guarantee that it is safe. The service does its best to protect the personal information of its users with the help of software. It also checks every new account to eliminate scams and fake accounts. Nevertheless, sometimes users report fake accounts or users with suspicious behavior. Members of the platform are recommended to increase their safety by not sharing private information with other users and not sending money. AdultFriendFinder guarantees that personal information that you share with the website during registration is secured. It is not disclosed to other users or third parties.
Help & Support
AdultFriendFinder has a customer support team to help users solve various issues. Customer support representatives operate 24/7 to provide efficient and quick help. It is important to note that inquiries of premium members are processed first. It is also one of the reasons to become a paid member. No matter what problem you have, you can anyway contact the customer support team. A friendly representative will gladly help you. Just fill in the online form and wait for a solution.
Prices & Plans
AdultFriendFinder offers a variety of means to interact and communicate with other users. There are chatrooms, livestreams, traditional messages, and even vlogs. However, the full scope of features is available only for premium members. There is no fee for registration, search, and view profiles of other users. But if you want to get in touch, comment photos, and communicate in chatrooms, you need to become a premium member. Premium members can have their own blogs, get full access to profiles of other premium users, watch their videos and stories. There is also a nice "wink" feature that is frequently used to connect with new users.
Free features are good for those who want to see what the service is all about. If you have decided to join the premium community, check subscription plans below:
1 month – 39.95 USD
3 months – 80.85 USD
12 months – 239.95 USD
Unfortunately, there is no 6-month subscription. You can pay for a subscription by credit card, bank transfer, or via mobile app. No need to worry about sensitive data as all transactions are secured.
Conclusion
Based on the information of various AdultFriendFinder dating site reviews, it is possible to make a conclusion that the service is for mature and open-minded people, who are not looking for serious relationships. If you want to find a friend with benefits, this is the right place. The platform is full of adult content and can be used only by adults. Users who want to get the most from the website are encouraged to buy a subscription. It not only gives a possibility to connect with other users but also quickly finds what you are looking for.
FAQ
Is AdultFriendFinder Legit?
The platform is legit and officially registered in the US. It is an online dating service with adult content suitable for users who have come of age. Users under 18 are not permitted to use it.
Are There Any Tips On Creating A Good Profile?
If you want to have a successful profile page, you need to make it catchy. Upload a high-quality photo and write a couple of words. When other members search for potential matches, they tend to pay more attention to accounts with extraordinary descriptions.
Can I Use AdultFriendFinder For Free?
You can register and create a profile page without any subscription payment. But if you want to connect with other users and enjoy the full list of special features, you need to be a paid member.
Can I Delete My Account?
Users can delete their accounts at any time by contacting the customer support team.
I Do Not Receive Verification email. Why?
The verification email can be blocked and sent to spam. It is classified as an unwanted adult content email. Please, check spam. If there is not verification in spam emails, contact the customer support team.
Can I Restore My Password? If I Do Not Remember It?
Yes, it is possible to restore a password. Click Forgot password, indicate your username and email. The system will generate and send out an email with a new password.